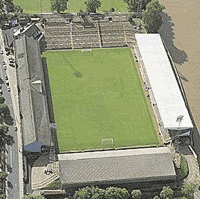 Ground Name: Craven Cottage
Capacity: 22,000 (all seated)
Address: Stevenage Road, London, SW6 6HH
Probably the worst ground in the Premiership, aside from possibly Portsmouth, Craven Cottage was due for a major re-development under chairman Mohamed Al Fayed, so Fulham moved in to share with QPR for a while.
Something then happened with passports, Princess Diana, and small penises according to Al Fayed, and he upped sticks and left Fulham in the lurch.
So, far from being the 50,000 capacity stadium he had promised, Craven Cottage got the least possible work done to bring it up to Premiership standards and the Cottagers moved back in.
How to get there :
From the North M1
At the end of the M1, turn right (west) onto the A406 (North Circular) and follow it towards Harrow for nearly 4.5 miles. Turn left (east) onto the A40 heading into London (passing close to Loftus Road and after a little over 4 miles turn right (west) onto the A402 for just about 350 yards. Here you turn left (south) along the A219 for a little over half a mile. This brings you into Hammersmith where you turn right onto the A315 and then after just 130 yards or so turn left (south) back onto the A219. Follow this road for a little over a mile, and the ground down the side streets off to your right.
By tube :
The nearest station is Putney Bridge, which is on the District Line. The ground is about a fifteen minute walk. Turn left out of the station and then just follow the other supporters. You get a nice pleasant walk through Bishops Park along the riverbank to the ground (note that the park is closed after evening games).