27 Feb 1998: The Guardian – Page 14
Sport: Duncan Ferguson : Why I love
By: By MARK TALLENTIRE
THERE is no more impressive sight in football than Duncan Ferguson , the Birdman of Barlinnie, getting up for a header, hanging in the air and flexing his neck muscles before thundering the ball into the back of the net. The big man, still only 26, is the complete centre forward: two good feet, pace, awesome heading ability and a football brain.
He just wants to be a centre forward and loves it when Everton score. The Scot has even got a tattoo on his arm of a No. 9 complete with the club's motto, Nil Satis Nisi Optimum (nothing but the best).
Duncan is the game's best player of his type, but also the most put upon. When he got the only goal against Manchester United in 1995 he whipped off his shirt and whirled it above his head. This is the entertainment business, after all, but he was censured by the league although others still get away with it.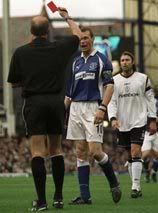 None of your contrived Chelsea, Coventry or Liverpool poses for Duncan. Just sheer delight. At Palace last month he picked up Nicky Barmby in a fireman's lift and ran 10 yards with him after the England man had scored.
Duncan has become a Goodison legend before he's become a great player, the former manager Joe Royle said. So he might have, but after 10 months of watching Mike Walker's Everton eke out six wins in 10 months, is it really so strange that the fans were looking for a hero? Duncan came to Goodison on loan from Rangers and although Walker was sacked halfway through the spell, Royle stepped in. His first game in charge was against Liverpool and the die was cast when the Scot scored with a towering header in a 20 win which lifted Everton off the bottom. It then emerged that he had failed a breathalyser test the night before. The tabloids had a field day but a legend was born.
Duncan has played in seven more Merseyside derbies since, collecting another two goals and has yet to finish on the losing side. Last Monday's effort, into the Kop goal and effectively ending Liverpool's title hopes, sparked particularly riotous celebrations.
Duncan was sent to jail for three months in 1994 for infringing a 12-month probation order in an on-pitch incident while playing for Rangers against Raith. Despite the ' Duncan is Innocent' T-shirts, he did 44 days in Barlinnie no open prison treatment for him.
On his release Ferguson played in a reserve match and 10,432 people turned up on a freezing December night. He was piped on to the pitch by a 15-piece band and a 'Welcome home, Dunc' banner was unfurled. He scored twice.
His stay in Barlinnie ultimately cost him a place in the starting line-up for the 1995 FA Cup final, but he was on the bench. Duncan ambled out for his pre-match warm-up alone and went through his routine on the Wembley centre spot. We loved it.
The signing of Mickael Madar has changed Duncan's game, allowing him to play further up the pitch and facing goal. The workload has been shared and the improvement in his strike rate is noticeable, too. He has hit six in his last eight matches.
Late in 1997 Duncan announced his international retirement in a letter to the Scottish Football Association. Craig Brown has since intimated that the door is still open, but Duncan has other plans for the summer he is getting married in Las Vegas. Given the choice of going for a drink with him or Alan Shearer, I know who I would pick.