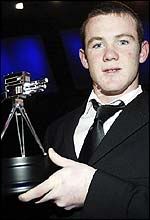 Like bid-up.tv, but with a better quality product, like e-bay, but with the real thing, and like Everton's e-auction, but popular, the bidding war over Wayne Rooney has officially started – with both Manchester United and Newcastle United desperate for the boy to sign.
Everton, however, have rejected both teams' opening bids. Well, it'd be no fun if we just let them have him would it. Newcastle opened at £20m, which was rejected, so Man Utd bid the same amount, aren't they clever, which was, guess what, also rejected.
Newcastle are expected to put in a new bid of about £23.5m today, which we expect to also be rejected, as Moyes has already said, Rooney won't be sold for less than a spectacular figure. I'd imagine that soon after Newcastle's bid is rejected, Man U will offer the same amount, just so they look interested, and to try and fool Newcastle into thinking they can actually afford him.
So, expect fee's in the region of £30m to be discussed before Monday, which is probably when Chelski will get involved, as at the moment, he is simply too cheap for them.
While we're on the subject of money, Everton have announced an undisclosed amount of "alternative" funding. Is that like "alternative" comedy?
We wait with baited breath.
The following two tabs change content below.
NSNO Staff writers maintain the news on the site and ensure the site is updated frequently with the latest Everton news. Starting in 2004, NSNO has always been at the forefront of bringing you the latest Everton news and rumours, building a large forum and growing social media presence, which you can follow by clicking the links to the left.
Latest posts by NSNO Staff (see all)