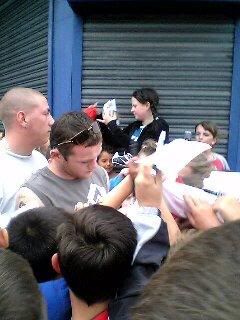 "young and stupid"
Wayne Rooney has today admitted visiting "massage parlours and prostitutes" in the early days of his Everton career after the Sunday Mirror led with a very blurred picture of him inside a massage parlour.
The full statement, issued through his agent Paul Stretford said "Foolish as it now seems I did on occasions visit massage parlours and prostitutes.
"I now regret it deeply and hope people may understand that it was the sort of mistake you make when you are young and stupid,"
"It was at a time when I was very young and immature and before I had settled down with Coleen."
Let's hope he starts to score more on the pitch now that he has apparently stopped scoring off it.
The following two tabs change content below.
NSNO Staff writers maintain the news on the site and ensure the site is updated frequently with the latest Everton news. Starting in 2004, NSNO has always been at the forefront of bringing you the latest Everton news and rumours, building a large forum and growing social media presence, which you can follow by clicking the links to the left.
Latest posts by NSNO Staff (see all)