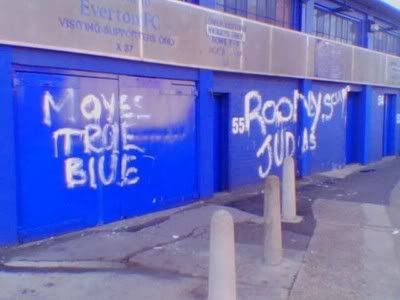 A couple of no doubt teenage Evertonians have aired their opinions on Wayne Rooney's imminent departure rather publically, with slogans daubed all over the Bullens Road stand at Goodison Park.
The badly scrawled graffiti has a number of messages concerning Wayne and Everton, the most inventive of which is pictured below, "Could have been a God, but chose to be a Devil", very imaginative, but could have been said/written somewhere far more appropriate.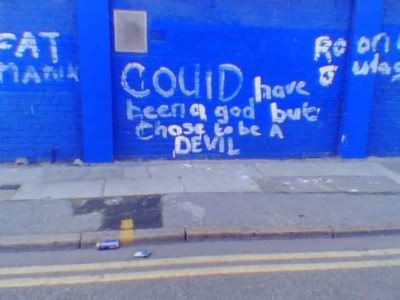 Everyone is upset over the transfer of one of our own to another club, especially when it appears that he has turned his back on the club who turned him into the best young footballer in Europe. But damaging Goodison Park is not the way to express our feelings.
Goodison Park is a place to celebrate what we do have at the club, a fantastic manager, a team with 6 out of 9 points in the Premiership, and another rising star in Leon Osman, among other things.
So, while no doubt there are many who echo the sentiments of the overnight vandals, many more will acknowledge that this was not the way to go about airing your views.
The following two tabs change content below.
NSNO Staff writers maintain the news on the site and ensure the site is updated frequently with the latest Everton news. Starting in 2004, NSNO has always been at the forefront of bringing you the latest Everton news and rumours, building a large forum and growing social media presence, which you can follow by clicking the links to the left.
Latest posts by NSNO Staff (see all)