We're proud to be Blue, and here are 100 reasons why! We're not saying they're all "happy" moments, but they are 100 of the moments that make Everton Football Club, well, Everton Football Club.
The opening of Goodison Park in August 1892
Everton beating Liverpool 3-0 in the first derby in 1894
Dixie Dean's first hat-trick for Everton against Leeds in October 1925
Andy Gray's header past Steve Sherwood in the 1984 FA Cup Final
Wayne Rooney's first goal at Goodison against Arsenal in October 2002
Paul Rideout's winning FA Cup Final goal in 1995
Dixie's 60th against Arsenal in May 1928
The Latch's 30th against Chelsea in 1978.
The sight of 18-year-old Joe Royle tying his bootlaces before scoring a penalty at Molineux in a 3-1 win
Gareth Farrelly's wonder goal against Coventry in 1997
Johnny Carey getting sacked in the back of a taxi by Sir John Moores
The centenary game against Bayern Munich in 1988
Alan Harper's screamer at Stamford Bridge in 1987
Alex Parker timing his slide tackles to perfection
Graeme Sharp's volley against Liverpool at Anfield in 1984
Kevin Ratcliffe lifting the European Cup Winners' Cup in Rotterdam
Pele playing at Goodison Park during the 1966 World Cup Finals
Barry Horne's thunderbolt against Wimbledon in 1994 to help Everton remain in the Premiership
Everton's first game – and first win – 6-0 against St. Peter's in 1879
Dave Hickson's winner in the FA Cup Fifth Round against Manchester United in 1953, as his face was pouring with blood.
The sight of Wayne Rooney jumping for joy in front of the fans as the Elland Road jinx was broken in November 2002.
The meeting in which the decision was taking to abandon Anfield in 1892
Jimmy Gabriel playing for time in the 1966 FA Cup Final as Everton held out for a 3-2 victory
Daniel Amokachi's semi-final goals against Tottenham Hotspur in 1995
Gary Lineker being presented with the Golden boot during his brief stay at Goodison
Andy King's goal against Liverpool in 1978 – and the policeman intruding on the BBC post-match interview
The entire performance against Bayern Munich in the semi-final of the European Cup Winners' Cup in 1985
Alan Ball leaving for Arsenal in 1971
Francis Jeffers and Sander Westerveld squaring up at the Anfield derby in 1999
Dixie Dean, passing away at Goodison, fittingly during a Merseyside derby in 1980
The Championship Win at Carrow Road, Norwich in 1987 as Kevin Ratcliffe hoisted the Championship trophy aloft.
Kevin Sheedy's free-kicks against Ipswich Town in the 1984-85 season. He scored a free-kick which was disallowed, but also netted the retake!
Sam Chedzgoy dribbling the ball in from a corner kick…forcing a change in the rules!
Dixie Dean lifting the FA Cup at Wembley in 1933…our first win at the Twin Towers.
The record crowd of more than 78,000 at Goodison against Liverpool in 1958
A 2-0 win over Liverpool in 1955 – the first time floodlights were used at Goodison
Gordon West receiving handbags from the Kop
Tomasz Radzinski's goal against Southampton in 2003…and David Moyes' reaction!
Neville Southall sitting with his back to the post during half-time of the opening day of the season against Leeds in 1993.
Joe Royle's outburst to the media after the FA Cup semi-final in 1995
Kevin Campbell's goal against Liverpool in September 1999
Everton's first cup success – a 1-0 victory over Earlestown in the Liverpool Cup of 1884
Gazza signing for Everton
Promotion from Division Two with a 4-0 win at Oldham in 1954
Colin Harvey's semi-final winner v Man United in 1966
Derek Temple's FA Cup winning goal against Sheffield Wednesday in 1966
Tommy Eglington scoring five against Doncaster in 1952
Adrian Heath's equaliser after Kevin Brock's backpass in the Milk Cup game with Oxford in 1984
Andy Gray's two headed goals against Sunderland in 1985
The Everton fan with the 'Sack Cattrick – Keep Young' placard at Goodison in 1964
A referee bringing Everton and Leeds off the field after a bad tempered game at Goodison in the mid-Sixties
The World Cup trophy, the League Championship and the FA Cup trophy paraded around Goodison in 1966
Graeme Sharp's goal that clinched the Championship over QPR in 1985
Whenever Z-Cars is played
Everton legend Harry Catterick passing away at Goodison Park
The sight of Derek Mountfield with a black eye celebrating after his goal in the semi-final against Southampton
Gareth Farrelly's goal against Coventry on the final day of the season to keep us in the Premiership
Joe Harris snapping the corner flag during a match, prompting a 10 minute break in the game
David Moyes address that 'Everton are the People's Club oof Liverpool.'
The unforgettable night in 1991 when Everton drew 4-4 against Liverpool
Bob Latchford learning from the master Dixie Dean at Bellefield in 1974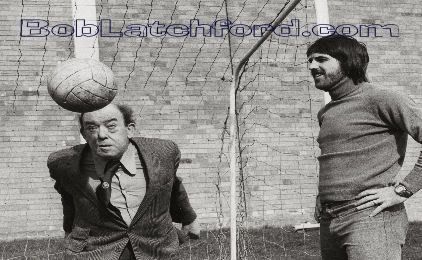 Graham Poll refusing to allow the goal which rebounded off Don Hutchison's backside at Goodison.
Wayne Clarke's goal that ended Liverpool's unbeaten run in 1988 at Goodison in 1988
March 14th 1891 – the date when Everton clinched their first Championship
Gary Lineker's hat-trick against Manchester City in 1986
Duncan Ferguson's header in the 2-0 win over Liverpool in Joe Royle's first game in charge in 1995
Tommy Clinton missing a penalty in the 1953 FA Cup Semi-Final against Bolton Wanderers
Howard Kendall saluting the fans after the 1984 FA Cup Final win over Watford
The scoreboard when Everton defeated Southampton 8-0 reading '79798997' – indicating the scorers!
Roy Vernon netting a hat-trick as the Blues beat Fulham 4-1 in 1963 to win the Championship.
Stuart McCall's 90th minute equaliser in the 1989 FA Cup Final
Wayne Rooney's hands-on-hips moment against West Brom in the 2002-3 season
Adrian Heath's goal at Highbury in the last few minutes of extra time in the 1984 FA Cup Final against Southampton
Brian Labone's comment that 'one Evertonian is worth twenty Liverpudlians'
Colin Harvey's goal as Everton defeated West Bromwich Albion to win the title on April 1, 1970
The Millennium Giants presentation at the first home game (v Leicester) in the year 2000
Neville Southall's breathtaking save from Mark Falco at White Hart Lane in 1985
Eddie Cavanagh's dash across the Wembley turf in 1966
Duncan McKenzie's mazy dribble through the muddy Maine Road turf in the FA Cup Semi-Final against Liverpool in 1977
75,000 spectators in Goodison for a cup tie with Charlton, which was played in dense fog – we won 4-1!
John Bailey's goal from the half-way line against Luton Town in 1982
Dave Watson's face as he lifted the FA Cup in 1995
Alex Young's only Everton hat-trick against Sheffield Wednesday at Goodison in 1965
David Ginola arriving at Goodison Park
Mike Lyons' headed goal in the 3-2 win against Leeds.
The sight of Bob Latchford scoring at Derby on a waterlogged pitch – prompting the chant 'Bobby Latchford Walks On Water'
Alan Ball's fortunate goal against Liverpool in 1971
Catching a sweet from the Toffee Lady before the game
Andrei Kanchelskis scoring twice in front of the Kop in 1996.
Andy Rankin's penalty save from Muller in the European Cup game with Borussia Monchengladbach in 1970
Kevin Ratcliffe's goal at Anfield
Bob Latchford's 100th League goal for Everton against Stoke in March 1980
Howard Kendall's return to Goodison in 1990…and in 1997!
Everton players turning in disbelief to referee Clive Thomas after his disallowed Bryan Hamilton's goal in 1977
The 1985 squad on the Terry Wogan show singing 'Here We Go'
The 1906 FA Cup Final victory – the first time we won the famous competition
Sheedy's salute to the Kop after his wonderful free kick
Scoring 20 goals in three games against Derby, Brentford and Plymouth in 1954
Neville Southall snubbing a Zenith Data Systems Cup Runners Up Medal in 1991
Ian Marshall and Mick O'Brien lifting the FA Youth Cup for the Blues in 1984 and 1998 respectively