Ok, this is a page to walk you through the process of making a news item for NSNO.co.uk using the e107 Content Management System. We will assume that you have the Admin link in your Usermenu, next to your Avatar, otherwise why are you looking at this? OK, open the Admin link in a new window, so you can keep this window open and read these instructions. When you get there, you will see a page with this menu in the middle, although you may or may not have access to all the buttons shown on this picture :
Now, you want to enter a news story, so select News. This will take you to this screen :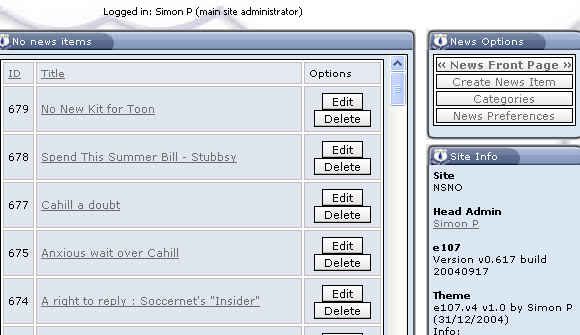 You want to select "Create News Item" from the menu on the right hand side, or you can edit existing news stories, although be aware that they will not show as new stories on NewsNow after they have been edited. When you have clicked Create News Story, this will bring you to a page which looks like a forum post page, and, essentially, that's what it is. It works in the same way, with the same buttons doing the same thing, and the buttons work in the same way, just highlight the text you want affected and click the button of the effect you want.

It is important that the news goes into the right category, Match Reports or Previews go into that category, Transfer things into that one, News about the Site into Site News and general Everton stuff into the Everton News category.
Each player now has their own category, which makes it nice and easy to do, as they have their own picture and we can search for their news nice and easily!

Pretty straight forward so far?
The buttons underneath the post like "Extended:" are rarely used, and dont need to be opened or adjusted in any news story.
However, if you are writing a long story, then add roughly half of it to the "Extended News" box, this creates a "Read more…" link at the end of the short bit which links to another page with the whole story on it.
Right, that's about all that's needed to know about the technical side of it.
News items are posted to the Everton forum automatically.
The last thing you need to do is to create the "tags" under each story. This is pretty straight-forward and requires just three clicks. When you are at the front of the admin panel, click "TagCloud" – then "Yahoo Tag Generation" on the right hand side, and then "Save" or whatever the option right at the bottom is called. It will say "Failed" but it hasn't. Another bug, this time from Yahoo.
That's it.
If you forget to do any of the steps after posting the news story, don't panic, it will still go onto NewsNow and the front page of the site – there just might not be a forum post for it, or tags – forum posts aren't *too* much of a hassle, but can't be added later. Tags can be added at any time.
Just a few notes about content of the stories.
Headlines need to be unique, so if there are other stories on NewsNow with that headline, try and put a "-" or ":" in it somewhere, or add a "?" or quotation marks, just to make it unique – or you could think of a witty new one! Try and make sure all spellings are correct, we all make mistakes sometimes, but try and keep them to a minimum. Swearing in the news isn't advised, if you have to, try not to do it in the first 2 or 3 paragraphs! Try and stick to the tone that has been used on the site in the past. Facts and quotes are paramount. Humour is secondary, we've got a forum to mess about in! lol Quotes can be lifted from anywhere, if they attributed to an Everton player or member of staff, copying and pasting full stories isn't allowed, it makes us look very lazy! So, that's about it really, it seems a lot to remember, but it's basically just a few simple steps and a forum post. The key thing is the content, be creative, but keep it factual and as unbiased as we can! Have fun! Any problems PM me, or mail me. Si
I'll do a page on creating the "Short Stories" and adding the articles to those links later, but you can use this to get on with and continue posting stuff through the link I gave you before – you actually get 250 gold for each news story posted via that link, but I'd forgotten!